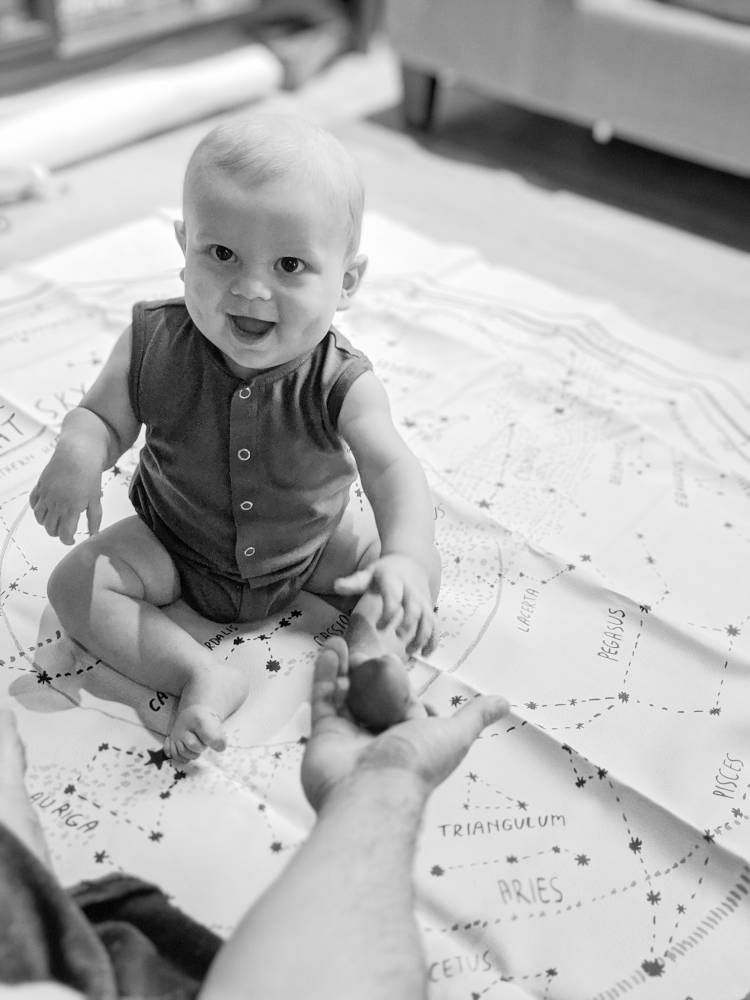 Clark Joseph Myers Haslanger, a Chicago musician, dancer and food enthusiast, died Friday, Jan. 17, 2020, of cancer. Clark spread joy through wiggles and smiles. His dimples were truly phenomenal and it was impossible not to smile back at him.
In his nearly 10 months, Clark experienced many firsts. His first ride in a car, first trip on a bus, first ride on the L, first trip to Madison for Christmas. First snowfall and first trip to the lakefront. First foods, first swing, first tooth breaking through and first time standing. Clark was baptized in July at Church of the Three Crosses, a church community that has surrounded his family with love.
Clark loved to look at faces and got to know many family members and friends through photos and video calls. He was an expert at peek-a-boo and greatly enjoyed waving around whatever he could grab and making noise by banging one thing against another. He had a fantastic sense of style and was a marvelous model for many photos.
Whether home or at the hospital, Clark enjoyed looking out the windows at the city. He took many naps cradled in the arms of those who loved him.
He is survived by his adoring parents, Justin Myers and Julia Haslanger; his grandparents, Linda Myers and Don Myers, and Ellen Reuter and Phil Haslanger; his aunts, uncles, and cousins; and the family cat, Pica, along with numerous friends and admirers who will carry his joyful, curious spirit in their hearts.
The family is grateful for the support they received from family and friends, the congregation at the Church of the Three Crosses, their coworkers, Cal's Angels, and from the caring staff at Lurie Children's Hospital.